For a first time dad, Father's Day can be an emotional, awe-inspiring time. To see a tiny baby look-up to you, as a father, can be both sobering and exhilarating. It can be a day of reflection and celebration.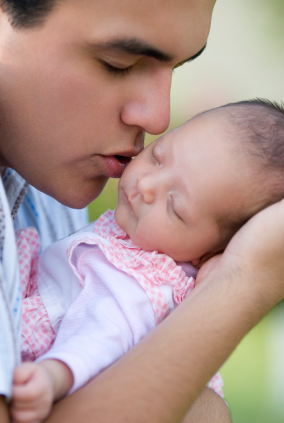 It is up to a new mother (and maybe friends and family) to determine how to best celebrate and honor the new dad. Of course, the new baby is in no position to determine what gifts to give or how to spend the day to honor Daddy. For the first Father's Day, the responsibility of how to celebrate the day is assumed by the mother of the child, and often, the child's grandparents.
Celebration Traditions
Celebrating the first Father's Day is the perfect opportunity to establish traditions that will become the hallmark of subsequent celebrations. Father's Day should be a meaningful day that honors the impact of the most important role model in a child's life, not just another just a day for cards and gifts.
It can begin the moment the day starts.
Breakfast in bed? With a new baby in the house, mom probably is still dealing with mid-night feedings and having to make breakfast will most likely not be on her high priority list of things to do. Give everyone a break and take dad out to his favorite restaurant for the beginning of the celebration. Dad can order-up whatever he wants, and mom will not have to worry about shopping, cooking, and cleaning-up. And the baby will be able to bask in the attention he or she will no doubt receive in the restaurant.
After breakfast, it would be a great idea to honor the grandparents with a visit. What a great opportunity to start a tradition of sharing stories you can build! Dad and mom can remember an important moment in their lives that brings a special honor to their fathers. Sharing these memories can become a yearly tradition to keep the family bonds strong as everyone grows older.
Hint: If grandparents are not local, setting time apart for telephone conversations will work just as well}
Taking advantage of the digital age, a great gift for grandparents who may not be technically savvy would be to set up internet cameras and install software so that they can communicate and see the child in real-time.
Fun Times
The first-time dad must take into consideration a new baby's schedule, but the day can still be full of fun activities. Mom and dad can pack the bottles and diapers and hit the road for an afternoon of events.
Does dad like to be outside? Put the child in a carrier and hit a hiking trail in the park. Pack a picnic lunch and go for a nice, leisurely stroll viewing nature. Even the smallest baby will enjoy being outside and looking at the gentle swaying of the trees. And Dad spends time doing something he enjoys and finds relaxing: everybody wins.
If dad is more of an indoor person, perhaps set-up a few games, invite friends and other new parents over and have a game day. A structured game day will provide new parents with the opportunity to share fun times with other parents without having to worry about the babies being out in public. Games could include actual board games, or games made-up specifically for celebrating Father's Day:
Everyone has to come up with a song honoring fathers.
Each person has to identify a famous father, real or fictional.
Everyone brings favorite sayings of their father (ones that impacted their lives), and share the meaning.
Watch a favorite father-themed movie.
The at-home celebration with family and friends can be a pot-luck party so that no single parent bears the burden of cooking for everyone.
A Brief History of Father's Day

Father's Day, 2010, marked the 100th celebration of the day. Father's Day was started back in 1898 by Sonora Smart who wanted to honor the dad that raised her and her 5 brothers after their mother died in childbirth. On June 19, 1910 Calvin Coolidge recognized the day, and in 1966 President Johnson officially designated the 3rd Sunday in June as Father's Day. It is  now celebrated in over 50 countries.
Tell it With Pictures
Pictures of baby and dad mark the occasion and create lasting memories. A great gift idea is to buy or make a picture frame that has room for multiple pictures. Each year a new picture of dad and baby can be added to the frame. Now dad will have a chronological keepsake, reminding him of what makes it so great to be a father.
On a day honoring fathers, to have generational pictures is always special. Get pictures of fathers, grandfathers, great-grandfathers, special uncles, or other males who influenced the father and make a montage of role models to give to dad. In the center put the baby's picture, and a keepsake has been created.
What a Guy Wants
If dad is normally involved with attending his child's needs, maybe all he wants on his special day is a little time to catch-up on sleep. What a great gift! No diapers to change, no feedings, just wonderful sleep or time-off to go do whatever he wants.
Here are a couple other ideas, to get you started in thinking "special" for celebrating his special day:
Indulge his hobbies: does he enjoy fishing, movies, or another activity that might be limited now? Arrange for the time-off and your blessing to go indulge his hobbies, and you could make him a very happy daddy.
Time with you. Most fathers really enjoy their families, and father's day makes a great time to simply be together, with a focus on celebrating all that dad does. A touch of romance is always a smart way to celebrate.
Time with his friends. Sometimes with a new family, dad can't spend time with the guys as much as he used to. You can arrange for a bunch of them to get together, and let them do whatever it is they like to do together. It does not necessarily have to be on Father's Day – you can schedule it for the following weekend or a more convenient time. That would allow you to spend the holiday together as a family, but still give him some time to catch-up with his friends.
No matter how you celebrate his first Father's Day, remember above all, to make it personal: it is a day he is likely to treasure a lifetime, so give him something worth remembering!