Flowers aren't just for women. There are many ways you add colorful beauty to your dad's special day with a Father's Day flower arrangement.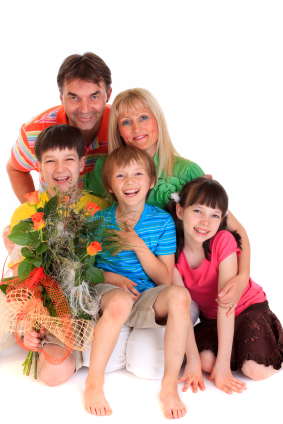 Father's Day Bouquet Ideas
When choosing flowers for a Father's Day bouquet, select brilliant colored flowers with bold designs. Vibrant red roses or flaming red Gerber daises are two excellent choices. Bright yellow dahlias or an arrangement of bold sunflowers would also be a good choice for a Father's Day bouquet. A bouquet with a mixture of electrifying colors and flowers with blooms and foliage in an array of shapes and sizes would be an excellent choice.
The container you select is important. The container should definitely enhance the beauty of the flowers. For a man, wooden containers or environmentally friendly bamboo containers are a good option. These look elegant enough to be placed in an office setting yet decorative enough for any room of a home.
You can also select from novelty style containers such as those in the shape of a baseball, football, fire truck, or antique car or truck. You could send your father flowers in a personalized coffee mug. Add his name or a special picture to the mug to add sentimentality to the gift. Team logo mugs could also be used as a container for the flowers.
If the idea fits, you can even send a bouquet of flowers to your father in a beer mug or decorative beer stein.
Bouquet alternatives
If you want to give your father flowers but feel that a bouquet just isn't the ideal choice, you have numerous other options.
You could give him a dish garden arrangement that includes lush green plants as well as one or two plants that are blooming.
You could add a few fresh flowers in small vials to a dish garden of greenery.
You can add a personal touch to a dish garden by including miniature statues of something your father has an interest in. A figurine of Saint Francis, a specific animal, or a bridge with a fisherman are just a few possibilities.
A cactus garden is another possible alternative to a bouquet of fresh flowers. A brilliant red or yellow bloom on a cactus makes an eye catching display.
Sometimes, one single flower can make a stunning impression. A perfect example would be a beautiful orchid, in full bloom in a simple but elegant vase or container. You could certainly impress your father on his special day by giving him a spectacular gardenia topiary that he could enjoy for a very long time.
Tropical flowers are usually brightly colored and frequently have uniquely shaped foliage. Tropical arrangements are an excellent choice for men. A Bird of Paradise is dramatically beautiful. You might want to select a unique color scheme such as chartreuse orchids and lime green spider chrysanthemums to delight your dad on Father's Day. Red ginger is another strikingly beautiful flower that would look good displayed by itself or in a flower arrangement.
Potted flowers as gifts
If your father likes to grow his own flowers, a potted plant might be a more appropriate gift for him. The choices are abundant this time of year so finding flowers that he can plant in his yard, flower garden, or outdoor container garden should be very easy to do. Be sure to take into consideration the space he has available for planting flowers.
If his gardening space consists of a deck or patio, you may want to give him a container garden filled with colorful, aromatic flowers. You could actually buy the container , the potting soil, and the flowers then spend some quality time with your dad as the two of you work together to create a Father's Day masterpiece.
A hanging basket filled with vivid red petunias or geraniums is a another possible flower option.
Herb gardens are easy to grow. You might want to give your father a planter filled with various aromatic herbs such as lavender and mint. These herbs have lovely blooms and attract colorful butterflies to a garden. You can mix herbs and flowers together in a basket or planter for a long lasting supply of color and aroma that your father can enjoy throughout the summer.
With all of the options available that allow you give the gift of flowers to your father, there must certainly be an option that you feel would please your dad. Give him an unexpected, unique, and enjoyable gift. Delight him by bringing an element of the tropics into his world. Surprise him with a bouquet of flowers.
Make memories with him by assisting him in adding flowers to his yard or garden. Flowers are not a gender specific gift. Everyone deserves a gift of colorful, fragrant, living beauty.