Ten Gifts Small Children Can Make Dad for Father's Day
Making gifts for dad can be a fun activity for small children. They will love being able to give something special for Father's Day, and dad will love to receive it!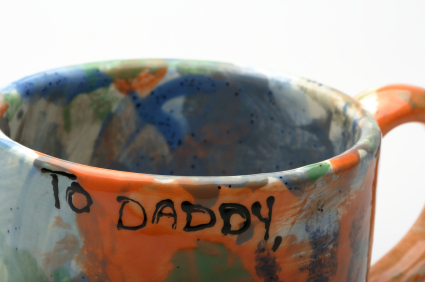 1. Personalized T-shirt
Materials needed: plain t-shirt that fits dad, different colored fabric paints. Read the instructions on the fabric paint to ensure you allow sufficient time for drying before dad wears it. Let the kids draw or write their message(s) with the fabric paint on the shirt. T shirts for Father's Day are always are great gift idea. Dad will be thrilled, and will probably put it on right away!
2. Herb Garden
Materials needed: plain planter, paint, plant soil, herb seeds or seedlings. Does dad like to cook? Imagine his delight at having fresh herbs on hand to put in his various recipes! Have the children paint the pot and allow time to dry. They can then fill the pot with soil and plant the herbs.
3. Treasure Map
Materials needed: paper, crayons. Is dad getting something big for Father's Day? Have the children help you find a suitable hiding place, and then draw a map to find it. This activity will provide a lot of giggles while dad tries to follow the map.
4. "Stuff" Tray
Materials needed: Styrofoam tray, buttons, glue, glitter. Dad needs a place to put the stuff from his pockets in the evening. Decorate the tray and allow sufficient time to dry. You can even write instructions on it like "place glasses here" or "place watch here".
5. Picture Frame
Materials needed: Poster board, markers, glue, glitter, buttons or other decorative material, scissors, favorite photo, ruler.
Place photo on poster board and using the ruler, mark 1" around photo.
Cut 3 pieces of poster board to this size.
Measure 1 ½" from outside in on one of the pieces of poster board to cut out display window. Give this piece to the kids to decorate.
Take the second piece of cut poster board and cut a slash that can be folded out to allow the photo to stand on a desktop. Glue the third piece of poster board to this piece. Place photo on top of this, and carefully glue the decorated display window to finish.
This will bring a smile to dad's face every time he looks at it!
6. Message board
Materials needed: child's chalkboard (like the ones found in dollar stores), glue, decorations (buttons, glitter, etc.), chalk, small sponge, yarn, yarn needle.
Have the kids decorate the frame of the slate.
Have an adult thread the yarn through the needle and punch it through the end of the sponge. Tie the end of the yarn securely. Glue the other end of the yarn to the frame.
Take another piece of yarn and tie to a piece of chalk. Glue the other end of the yarn to the frame.
Ask the kids what personal message they would like to write to dad, or simply have them write their names on the chalkboard. Use the sponge as an eraser.
7. Father's Day Banner
Materials needed: 5" white paper plates, crayons, markers, hole punch, yarn. Write one letter on each paper plate to spell out "Happy Father's Day". Let the children decorate around the letters. Punch a hole on each side of the plate and string together with yarn. Hang in a prominent location for everyone to see, especially dad.
8. Father's Day Cards
Materials needed: construction paper, crayons or markers. Fold construction paper in half. Ask the kids what they want to say, and help them write it. Have them decorate the cards however they wish. Dad will love to collect these personal, handmade cards year after year.
9. Pet Rock Paperweight
Materials needed: clean, small rock, paint. Let the children paint the rock to give dad a pet to hold his papers down.
10. Felt Eyeglass Case
Materials: felt, glue, scissors. Fold felt into a 3 inch by 6 inch rectangle. Carefully glue to form a case. Allow to dry, and then have the kids decorate it by gluing different colored pieces of felt onto it. Place the completed eyeglass case on his stuff tray!
Kids love to make things, especially for people they love. Have fun making for a Happy Father's Day!