Fathers play a very important role in our lives, and it is great that we have a day set aside to honor them and express our love for them. If your father is a Christian and is passing his beliefs on to his family, you are doubly blessed.
When you are thinking about a gift for your father on his special day, consider giving him something that reflects his Christian values and lifestyle.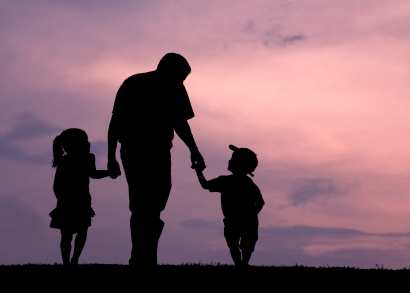 The Bible:
If your dad's eyes are not what they used to be, he may appreciate a nice bible with large print.
A study bible with a concordance is helpful if he enjoys bible studies. A bible that includes information especially geared to fathers may also be a good choice.
Ask his pastor about what type of bible his church recommends. Contemporary churches may prefer paraphrased bibles that are easy to understand while traditional churches like to use conventional bibles.
Catholic churches include the apocrypha in their bibles, and Orthodox Christians have recently translated the Septuagint and published an Orthodox Study Bible that your father will love if he is an Orthodox Christian.
Humorous Books
Laughter is very healthy, and it is good to relax and enjoy funny stories now and then. If you shop at a Christian site or store, you can find plenty of books with good clean humor that your dad will enjoy.
Do a simple search for: Christian Humor, and see which titles you think your father would enjoy.
Related Items for Avid Readers
Bookstore gift certificate
If the choices are too numerous, and you are not sure which book to select, let him pick his own by giving him a gift certificate for his favorite bookstore.
If your father enjoys learning from the Bible and often reads it again and again, he may like a set of highlighters so he can mark passages that are important to him and come back to them easily. Yellow highlighters seem to be a favorite with most book lovers, but some people like to use different colors for different ideas, so you may want to buy a package of markers in different colors.
Readers need lots of bookmarks, because many of them read more than one book at a time. They may also want to mark several pages in various books so they can easily locate certain passages later. You can find bookmarks with Christian symbols and bible verses on them that can give an encouraging message to your father every time he opens a book.
Serious studiers may appreciate a package of sticky notes, so they can make notations on them and find certain pages easily.
Beyond the study of the Bible and other religious or faith-based texts, a Father of Christian faith offers you a variety of gift options. The following are simply ways for you to get started thinking about the right gift for your father.
Parents always enjoy receiving items that their children make with their own hands. If you have a skill that you can use to create something especially for him, he will be grateful. Even if you do not feel particularly talented, you can probably make something simple that he will cherish because you made it.
Write a poem or story about your father. If he has a written testimony of how you feel about him, he will smile every time he reads it. You can tell him how much he means to you, and he will love hearing it, but if you write it down, he can keep the words for years and read them as often as he likes.
When you live near enough to your father, you can make a special meal for him with his favorite foods. If distance is a problem, you can bake some of his favorite goodies and send them to him. If you do not have the time or ability to cook, you may purchase a basket of fruit or other foods that he enjoys and bring or send it to him.
Plan a picnic for dad to enjoy with the whole family, and include the special things that he enjoys.
Invite dad to go fishing, golfing, hiking or biking with you. If you are like most people and have been too busy to spend very much time with your dad, make a special effort to give him your undivided attention for a few hours, and he will think that is the best gift that you could give him.
Do not limit Father's Day fun to one day a year. Try to visit or call your father often. Hearing your voice frequently will make him happier than most other gifts that you could give him.
Charity
The Christian faith means your heart is open to giving. If you know that your dad is generous and you know his favorite charity, you can give a donation in his name. Depending on the organization, they may send him a card informing him of the gift.
You might also send Bibles or missionary help somewhere else in the world in his name.
Hobbies
Think about the things that your father enjoys, and give him a gift that will be useful for those activities. His Christian faith allows a wide range of potentially appropriate gift ideas.
Golf – If he enjoys playing golf, some special golf balls, a sun visor, sunglasses or anything related to golfing would be nice for him.
Fishing – Fishermen may like some new lures, a net or an insulated lunch tote and thermos set.
Grilling – Backyard cooks would be happy with some long handled barbeque forks and tongs or an apron.
Sports – Does your dad have a favorite team that he roots for? He will enjoy receiving almost anything with the team logo on it.
Work -Your dad will appreciate getting a gift that will help him with his work. If he has a desk job, an engraved pen and pencil set would be nice. There are useful items that can help to keep his desk organized, and pictures of his family in nice frames will remind him why he works so hard.
When choosing a gift for your father, consider his interests, select a gift that reflects his unique personality, respect the specifics of his faith and he will surely like it. Let your father know how much you appreciate everything he does for you, and choose a gift for him that shows how much you care.