Father's Day can be a very challenging day to celebrate. Sure, everyone loves dad and wants to honor him, but the day itself comes at a very busy time of year. It is, after all, right before July 4th, right after the end of the school year, and right in the middle of wedding and vacation season.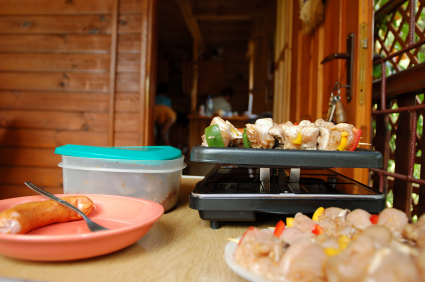 Still, dad deserves a celebration on his day, so here's a great idea: Join with several other families that you enjoy hanging-out with, and give ALL the dads their own party.
One thing all these dads will have in common is that they love to eat. So making a great meal for dad on Father's Day is a sure way to please.
Food=Good. Dads Like Food.
First, let's talk about what dads like to eat. A few years ago, there was a book titled Real Men Don't Eat Quiche…but no one really believes that anymore. Today's dad enjoys a variety of foods, from light salads to heavy meat and potato dishes.
When planning food for Father's Day, think honest, true foods. In other words, whatever you serve should look like what it is. To make things simple for this event, why not stick to heavy appetizers and foods the guys can eat while watching the game or sitting out by the pool. Here are some suggestions and recipes for Fathers Day Menus:
Chicken wings – a perennial favorite, these are available in many different styles and flavors. Why not go all out and prepare a tray of several different styles of wings: basic fried, standard barbecue and hot and spicy. Throw in a variety of dips, such as blue cheese, ranch and, for something different, sweet and sour. This is so simple to make. Just mix a bottle of cocktail sauce with a jar of grape jelly. Warm over medium heat, stirring constantly, until the jelly melts and that two can be mixed together. Serve warm.
Shrimp – a bit pricier, these make a great special treat. You can choose medium sized shrimp to save money but large or jumbo shrimp do make for a nicer presentation. As with the chicken wings, a variety of sauces makes it more fun. So, in addition to standard cocktail sauce, consider offering melted butter or a sweet barbecue sauce.
Pigs in a Blanket – easy and fun to make with the kids, just wrap little bits of prepacked dough around cocktail sausages and bake according to the directions on the tube. You might prefer the bread stick dough. It's just the right width and pinches off easily at the end of each sausage.
Meatballs – like pigs in a blanket, these are fun to make with kids. Just mix up a batch of your favorite meatloaf recipe and let the little guys help you roll it into balls. A few minutes under the broiler and you're ready for the sauce. Or, you might buy frozen meatballs and cook them according to the directions on the package. Now, on to the sauce. As with wings and other appetizers, barbecue is a classic, but meatballs can also be served in pot of the sweet and sour BBQ sauce mentioned above. Another great recipe is this easy version of Swedish meatballs:

Combine two cans of cream of chicken soup with a 16 ounce container of sour cream. Add a dash of nutmeg and stir to combine.
When preparing meatballs, a great technique is to warm them in a crock pot with the sauce for at least an hour before your event.

Vegetable Tray – even though most men are known for being committed carnivores, dad may very well enjoy a few veggies to break up the monotony of an all meat party. But since this is for dad, why not supplement the usual celery sticks and mini tomatoes with something more adventuresome, such as zucchini sticks or mushroom caps stuffed with cream cheese mixed with finely grated carrot and broccoli.
Sweets – this is a great opportunity to let the kids show off their skills. Start with basic cupcakes in several different combinations of flavors and icings. Then let each child use some tubes of colored frosting (available in the cake aisle of your local grocery store) to draw a picture of his dad on top. Since you will need extra cupcakes for the whole group, the youngsters can all commemorate dad's favorite sport, hobby, etc. in frosting. Whether their work is a masterpiece or a disaster-piece, it is sure to bring a smile to dad's face.
The key to most Dad's hearts, is through their bellies. And nothing gets to their bellies faster than the right finger-foods and snacks. Make your next Father's Day a success by keeping the recipes simple. Have fun, and bon appetit!