A father teaches his child many things; from trivial things like how to ride a bike to the more important lessons in life, like how to care for your family.
Since the early twentieth century, the third Sunday of June has been set aside to honor the fathers, paternal bonds, and thank them for shaping us into who we are. Like Mother's Day, this day is marked with gifts, cards and praises. Unlike Mother's Day, the gifts are a little harder to buy than flowers, chocolates, and jewelry.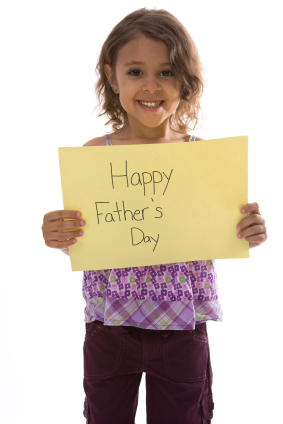 Some fathers like movies and novels, and others like finishing and carpentry. Luckily, there is a style of gift that never disappoints. With personalized gifts for Father's Day, your present is sure to be unique and considered thoughtful.
For the Professional Dad
A father's desk can contain anything from financial reports to hand drawn photos. To make your father's even more special, try supplying him with personalized desk décor.
For example, walmart.com offers many things that you can personalize with any name or personal message, and can be delivered right to your door. Examples include a personalized desk globes, business card holders, glass nameplates, personalized digital photo frames and coffee mugs.
For the Techie Dad
There is one thing that you can be sure every father always has; his cell phone. For Father's Day, surprise him with a personalized skin for his phone, or even a personalized phone cover. These can be made with names, his favorite sports designs, or that amazing photo of him holding hands with your mother on their wedding day.
The same can be done with laptops. Monogrammed laptop cases are also a unique gift that not only is pleasing to the eye, but helps make sure his laptop cannot be mistaken for someone else's.
For the Sports Lover Dad
Of all the types of people, sports lovers are by far the easiest to buy for. Personalization for this type is just as easy, and has many forms. "In the Game" prints are snapshots of a sports team, in which your father's name can be placed on the jersey of one of the players. Not only is this cute and one of a kind, it makes a great addition to any sports or game room.
Stadium seats and golf club markers can each be monogrammed, and beer mugs with your father's name and sports team would be a great addition to any collection.
If your dad would rather play sports than watch them, jerseys and tee shirts can monogrammed with numbers and last names on them. With a little research, these can even be found at amazingly low costs.
For the Chef (Who is Also a Dad)
We all can love and respect someone that knows how to work a grill. If your father is the chef of the family, you may consider personalized grilling sets, aprons, steak branders, or galvanized beverage tubs. All these items can be found on walmart.com, and can be shipped to your home or nearest Wal-Mart store.
What better way to celebrate Father's Day than watching your dad cook with his new grilling set, branding steaks with his initials, and wearing an apron that says "This apron belongs to Harold(insert your father's name), the grilling machine"?
For the Fisherman on Fathers Day
If your dad would rather cast a line than wear a tie, there are plenty of gifts out there to choose from. Monogrammed coolers and tackle boxes make great Father's Day presents, and can really come in handy out in the wilderness. Line and lures will always be needed, so if you don't know exactly what he needs, you can get him a gift card from a sporting goods store or Bass Pro Shops, where he can shop online.
With so many choices available for personalization, purchasing a Father's Day gift that your father will like, and doesn't already have, is a piece of cake!